hpl safe compact steel frames wardrobe locker
Product Description
#detail_decorate_root .magic-0{margin-bottom:10px;overflow:hidden}#detail_decorate_root .magic-1{border-bottom-width:2px;border-bottom-style:solid;border-bottom-color:#53647a;background-color:#c5ccde;margin-left:0;margin-right:0;padding-left:8px;padding-right:8px;color:#53647a;font-family:Roboto;font-size:24px;padding-top:8px;padding-bottom:4px}#detail_decorate_root .magic-2{vertical-align:top}#detail_decorate_root .magic-3{padding:0;margin:0;color:#333;font-size:14px;white-space:pre-wrap}#detail_decorate_root .magic-4{padding:0;font-size:16px;line-height:20px;font-weight:bold;color:#333;margin:0}#detail_decorate_root .magic-5{vertical-align:top;display:block;padding-right:4px;box-sizing:border-box;padding-left:4px}#detail_decorate_root .magic-6{vertical-align:top;padding-bottom:4px;box-sizing:border-box;padding-top:4px}#detail_decorate_root .magic-7{padding:0;margin:0;white-space:pre-wrap;font-size:14px}#detail_decorate_root .magic-8{margin:0;padding:0}#detail_decorate_root .magic-9{width:750px}#detail_decorate_root .magic-10{overflow:hidden;width:750px;height:1218.75px;margin-top:0;margin-bottom:0;margin-left:0;margin-right:0}#detail_decorate_root .magic-11{margin-top:0;margin-left:0;width:750px;height:1218.75px}#detail_decorate_root .magic-12{overflow:hidden;width:750px;height:376.071px;margin-top:0;margin-bottom:0;margin-left:0;margin-right:0}#detail_decorate_root .magic-13{margin-top:0;margin-left:0;width:750px;height:376.071px}#detail_decorate_root .magic-14{width:750px;border-collapse:collapse}#detail_decorate_root .magic-15{min-height:18px;padding:5px 10px;overflow:hidden;width:165px;box-sizing:content-box}#detail_decorate_root .magic-16{min-height:18px;padding:5px 10px;overflow:hidden;width:540.182px;box-sizing:content-box}#detail_decorate_root .magic-17{display:none}#detail_decorate_root .magic-18{min-height:18px;padding:5px 10px;overflow:hidden;width:164px;box-sizing:content-box}#detail_decorate_root .magic-19{min-height:18px;padding:5px 10px;overflow:hidden;width:164.182px;box-sizing:content-box}#detail_decorate_root .magic-20{vertical-align:top;display:inline-block;padding-right:4px;width:50%;box-sizing:border-box;margin-bottom:-4px;padding-left:4px;margin-top:-4px}#detail_decorate_root .magic-21{vertical-align:top;box-sizing:border-box;padding-top:4px}#detail_decorate_root .magic-22{width:371px;height:200px;overflow:hidden}#detail_decorate_root .magic-23{position:relative;left:0;top:0;width:178.2px;height:232.2px}#detail_decorate_root .magic-24{position:relative;left:0;top:0;width:243.9px;height:243.9px}#detail_decorate_root .magic-25{padding:5px 10px;overflow:hidden;width:121px;box-sizing:content-box}#detail_decorate_root .magic-26{text-align:center}#detail_decorate_root .magic-27{padding:5px 10px;overflow:hidden;width:208px;box-sizing:content-box}#detail_decorate_root .magic-28{padding:5px 10px;overflow:hidden;width:165px;box-sizing:content-box}#detail_decorate_root .magic-29{padding:5px 10px;overflow:hidden;width:164px;box-sizing:content-box}#detail_decorate_root .magic-30{font-size:16px}#detail_decorate_root .magic-31{overflow:hidden;width:750px;height:1300px;margin-top:0;margin-bottom:0;margin-left:0;margin-right:0}#detail_decorate_root .magic-32{margin-top:0;margin-left:0;width:750px;height:1300px}#detail_decorate_root .magic-33{overflow:hidden;width:750px;height:420px;margin-top:0;margin-bottom:0;margin-left:0;margin-right:0}#detail_decorate_root .magic-34{margin-top:0;margin-left:0;width:750px;height:420px}#detail_decorate_root .magic-35{overflow:hidden;width:750px;height:417px;margin-top:0;margin-bottom:0;margin-left:0;margin-right:0}#detail_decorate_root .magic-36{margin-top:0;margin-left:0;width:750px;height:417px}#detail_decorate_root .magic-37{overflow:hidden;width:750px;height:1010px;margin-top:0;margin-bottom:0;margin-left:0;margin-right:0}#detail_decorate_root .magic-38{margin-top:0;margin-left:0;width:750px;height:1010px}#detail_decorate_root .magic-39{overflow:hidden;width:750px;height:613.139px;margin-top:0;margin-bottom:0;margin-left:0;margin-right:0}#detail_decorate_root .magic-40{margin-top:0;margin-left:0;width:750px;height:613.139px}#detail_decorate_root .magic-41{overflow:hidden;width:750px;height:404px;margin-top:0;margin-bottom:0;margin-left:0;margin-right:0}#detail_decorate_root .magic-42{margin-top:0;margin-left:0;width:750px;height:404px}#detail_decorate_root .magic-43{overflow:hidden;width:750px;height:646px;margin-top:0;margin-bottom:0;margin-left:0;margin-right:0}#detail_decorate_root .magic-44{margin-top:0;margin-left:0;width:750px;height:646px}#detail_decorate_root .magic-45{padding:0;margin:0;color:#333;font-size:14px;padding-left:4px;font-weight:bold;white-space:pre-wrap}#detail_decorate_root .magic-46{border-bottom-width:2px;border-bottom-style:solid;border-bottom-color:#53647a;background-color:#c5ccde;margin-left:0;margin-right:0;padding-left:8px;padding-right:8px;color:#53647a;font-family:Roboto;font-size:24px;font-style:normal;padding-top:8px;padding-bottom:4px}#detail_decorate_root .magic-47{overflow:hidden;width:184.5px;height:203.30578512396693px;margin-top:0;margin-bottom:0;margin-left:0;margin-right:0}#detail_decorate_root .magic-48{margin-top:0;margin-left:0;width:203px;height:203px}#detail_decorate_root .magic-49{overflow:hidden;width:184.5px;height:203.30578512396693px;margin-top:0;margin-bottom:0;margin-left:4px;margin-right:0} Product Description hpl safe compact steel frames wardrobe
Locker
Fumeihua HPL Locker is made of
HPL Compact Laminate
with accessories and profiles with features on water resistant, damp proof, heat resistant, fireproof, ventilated, no rust, no toxic.
Application be widly used for swimming pool; gym& fitness club; sport center; school; office etc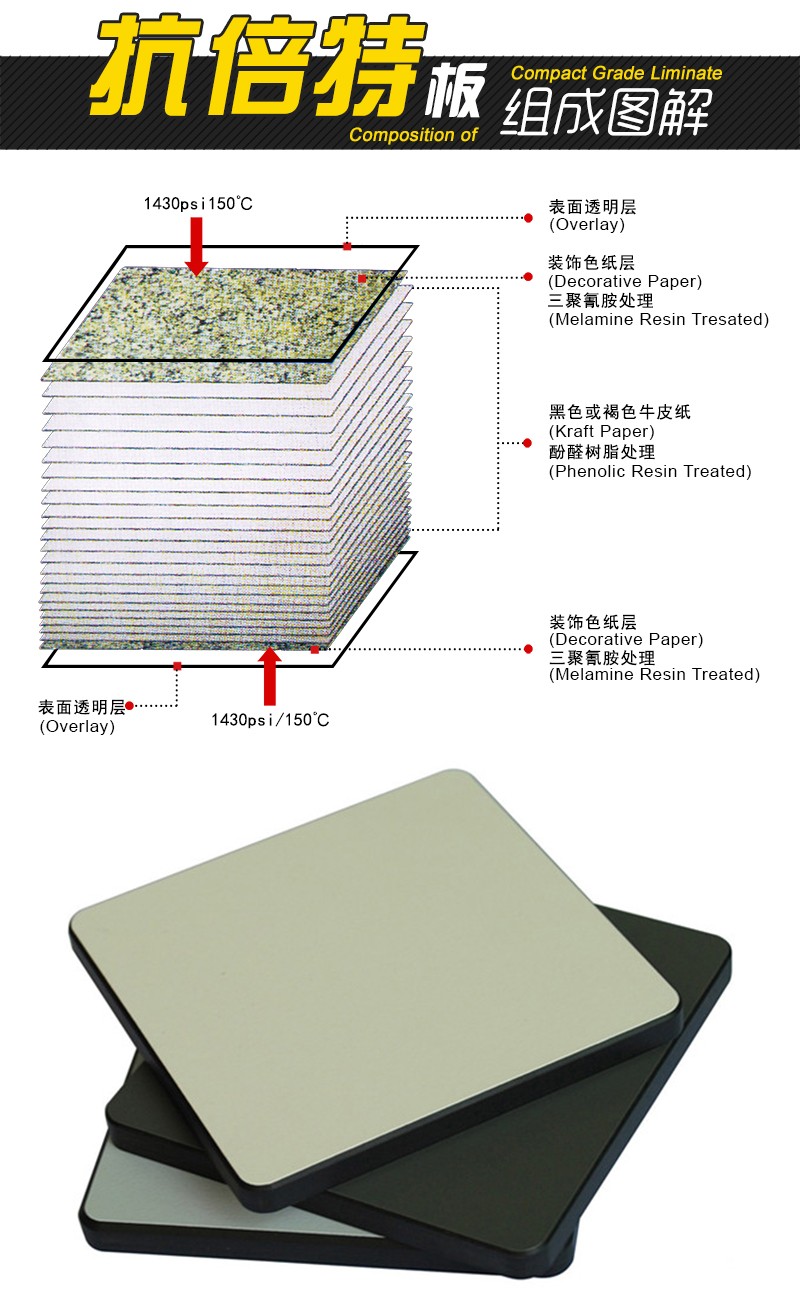 Features - Resistant to scratch, water and moisture
- Resistant to fire, heat and cigarette burns, easy to clean
- Extremely durable, not easy to deform
- Various surface processing and colors
- Customized design and size
- CNC deep processing are provided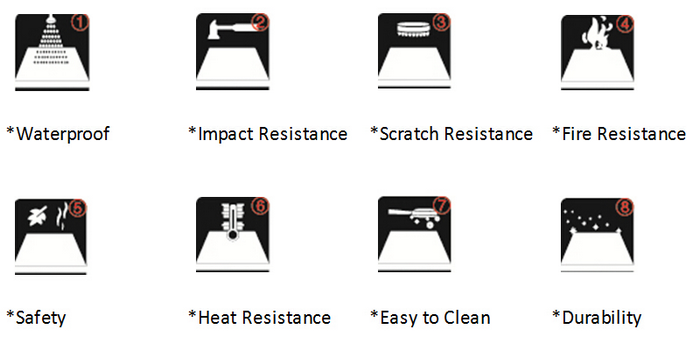 Two Types of Locker
Name

Staff single door locker

Material

Compact Grade Laminate Sheet

Normal Thickness

4/8/12mm

W300*D400*H1900mm

W400*D500*H1900mm

W400*D550*H2300mm

Accept customized size as your room/ drawing

Color

Plain or wood grain

Application

Swimming Pool; Gym/Fitnesess club; School; Suana Room; Hospital

Type of Lock

Key Lock; Electronic/RFID Lock; Digit Lock; Pad lock ; Coin operated Lock etc

Accessories

Name plate; door handle; cloth rod; wristband; etc

Packing

*Pre-assembled packing by bubber corner protector and film

* Knock Down packing by wood pallet for panel; hardware in small wood case

Delivery Time

10-30 working days as locker measures and quantity etc

Payment

T/T; L/C

Minimum Order Quantity

1 set

Warranty

2 years; over 20 years useful life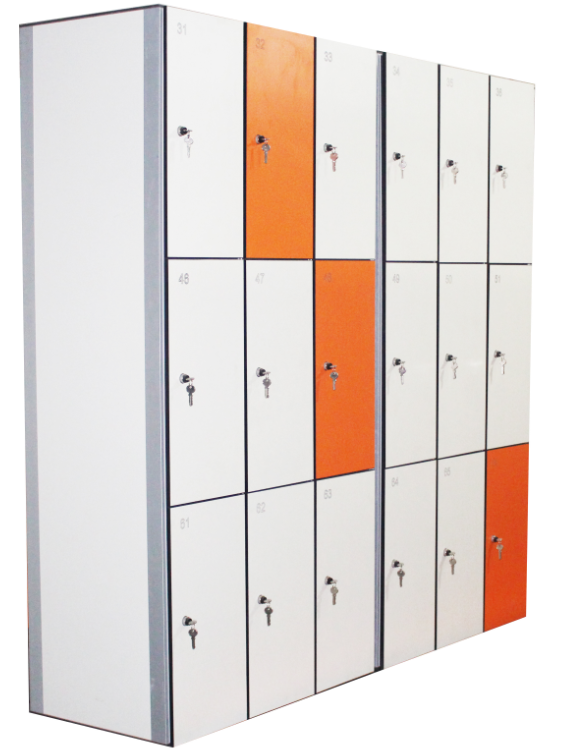 Aluminum Structure Locker
Thickness:
Door--12mm
Back panel& Middle vertical panel--4mm ;
Side panel Top & shelf & bottom--8mm ;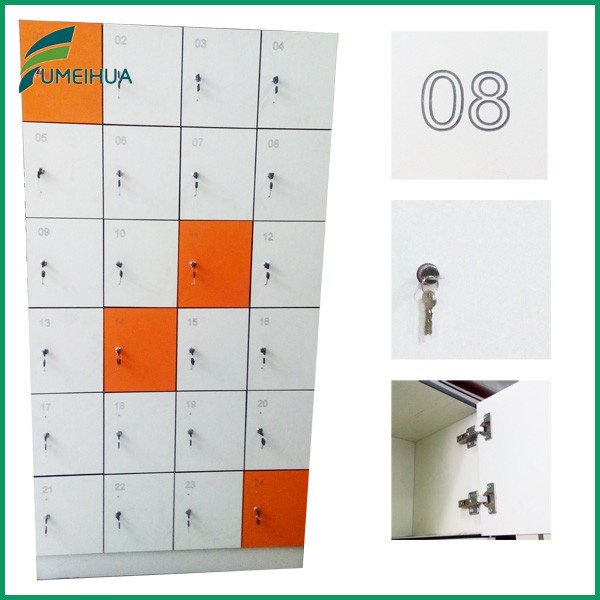 12mm HPL Locker
Thickness:
All panels are 12mm
Locker Design Below is the popular locker design and combination. If you are looking for special design, please contact our sales to know more!!!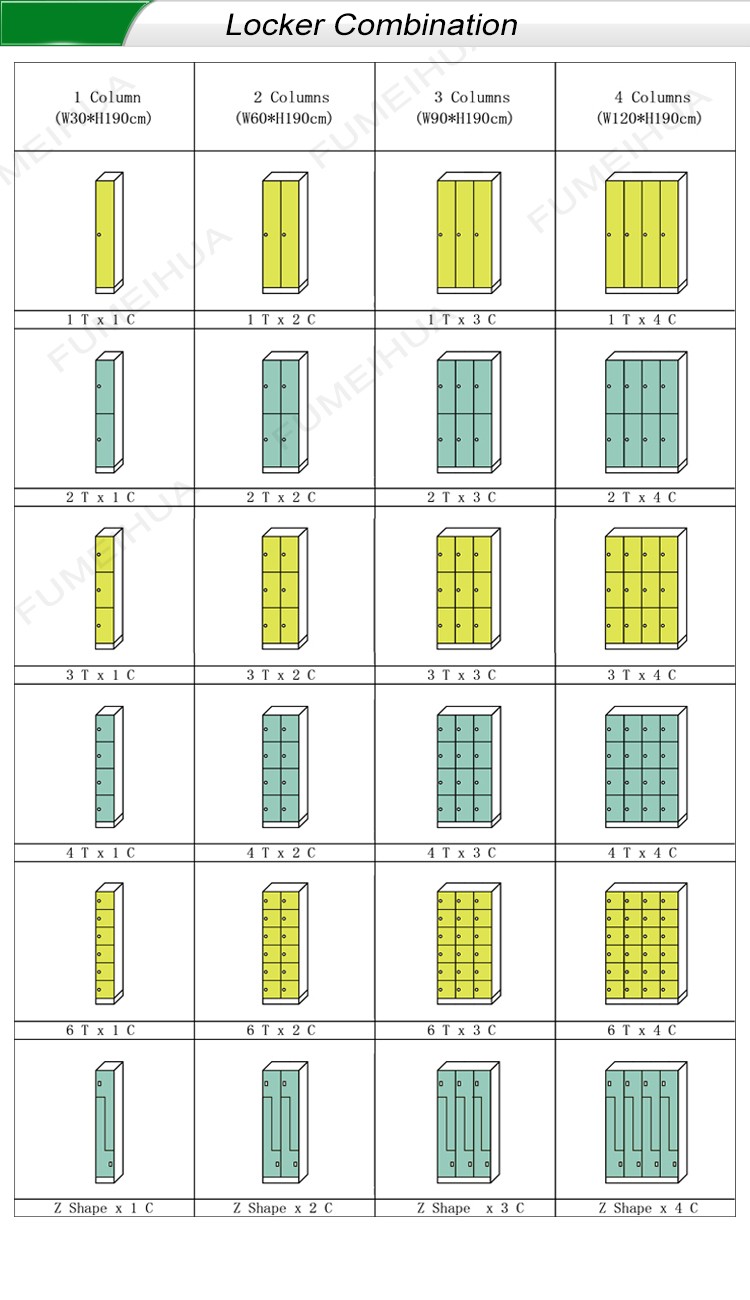 Lock and Accessories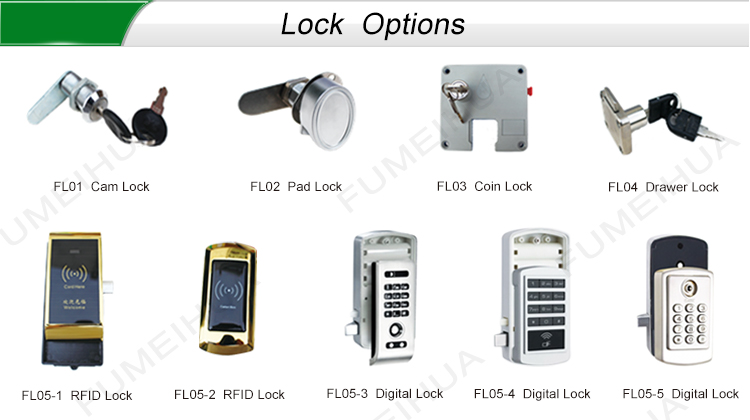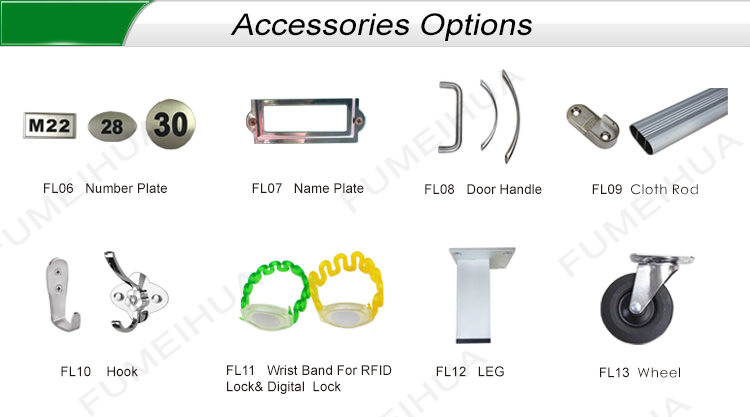 There are more than 100 colour for your choice. Please contact our sales to know more.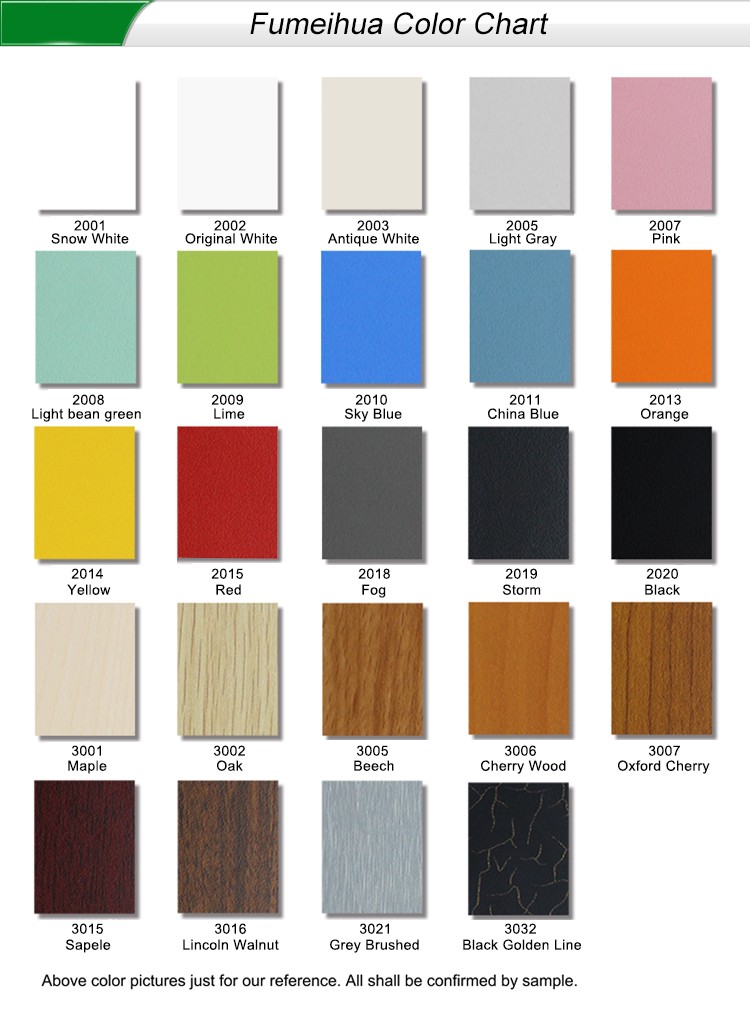 Packing & Delivery 1. The cabinet will be arranged for installation before shipment to ensure that there are no problems, and then the shipment is arranged.
2. The cabinet can be disassembled and shipped, or it can be assembled and shipped. Please tell us your requirements.
3. Accessories will be packed by carton and store in locker inside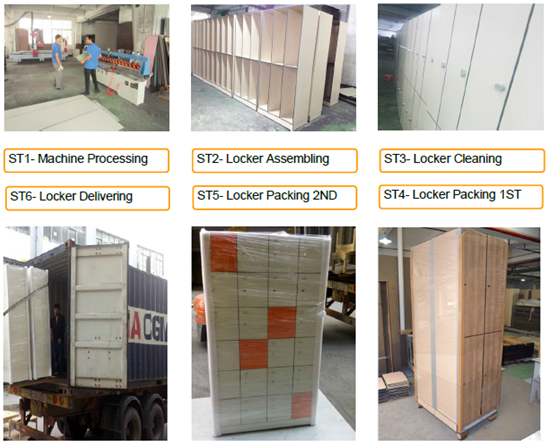 Certifications CE; ISO9001:2015;SGS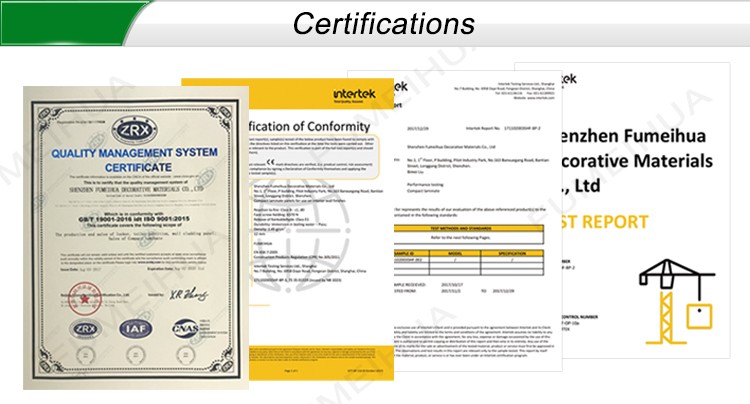 Our Company Shenzhen Fumeihua Decorative Materials Co., Ltd. was established in 2009.We are professionally specialized in the manufacture of fireproof high pressure compact laminate boards, chemical boards and other related CNC products. Our company has successfully acquired ISO9001:2000 certificate. Our products have passed various domestic tests with certifications and are well received in domestic and overseas markets.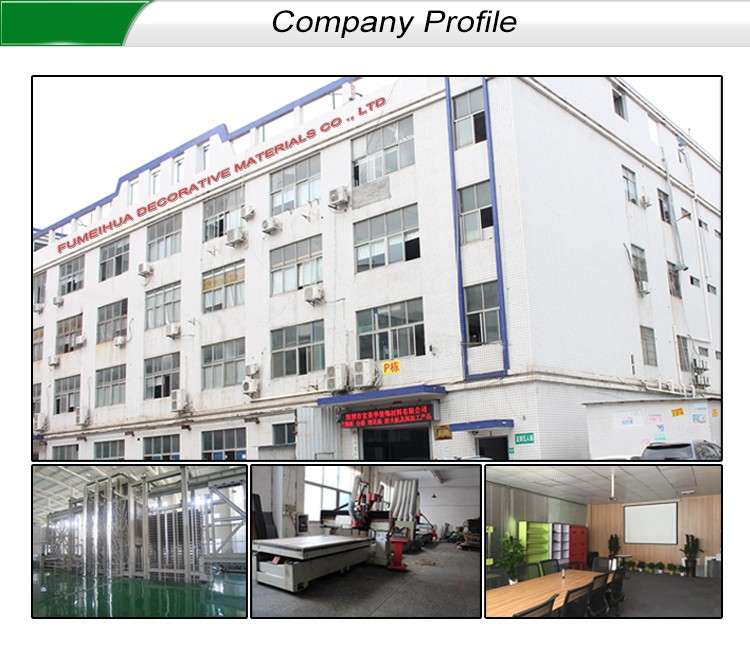 Our Services & Strength OEM/ODM( design, color, type etc)
Our designers are pleased to provide you some professional opinions in accordance with 3D or CAD drawing within 24-hour.
Warranty Certificate
We offer an exceptional post-sale service system which means you could totally set your minds at rest on worrying the quality issue of our products.
Installation
We could provide the installation guidance video and also the field installation guidance by our professional based on the actual situation for you. Recommend Products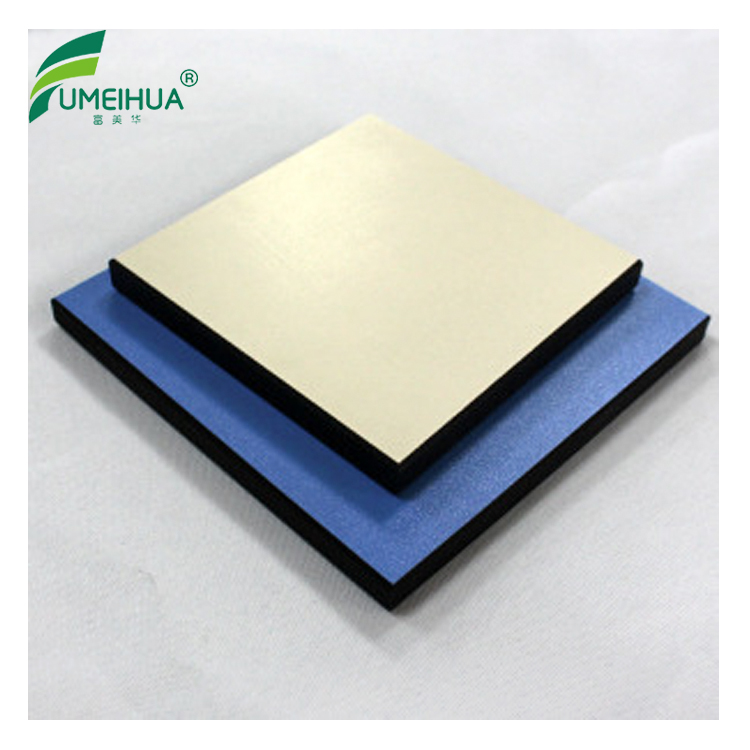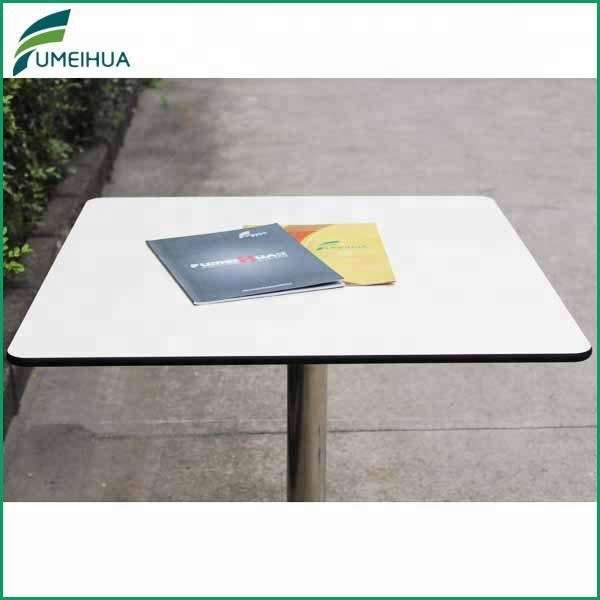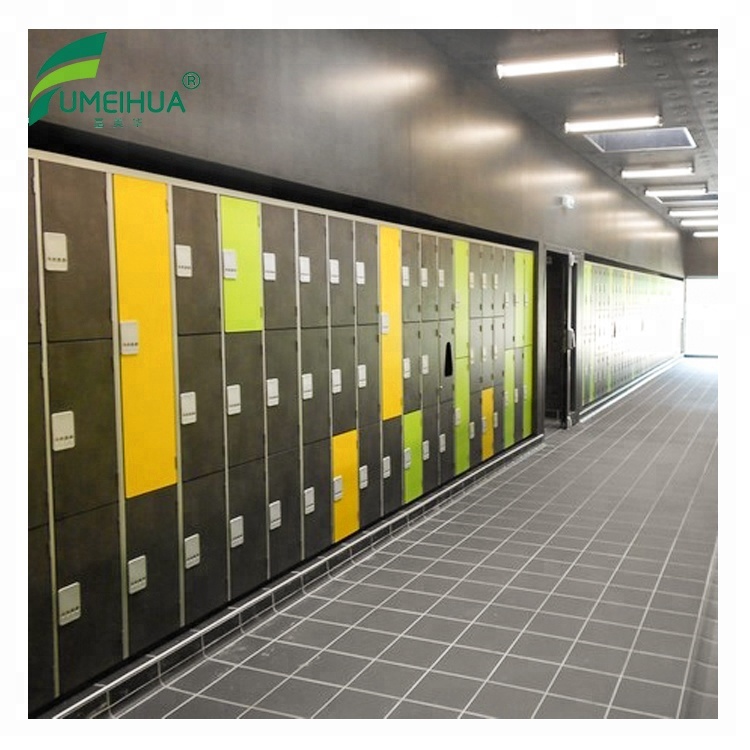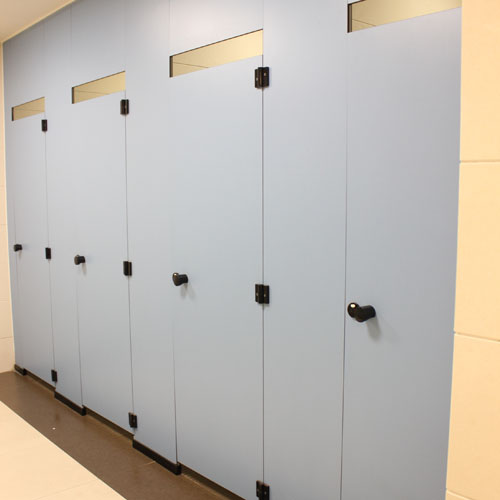 Contact us if you need more details on solid phenolic locker. We are ready to answer your questions on packaging, logistics, certification or any other aspects about hpl coin operated lockers、metal frames hpl wardrobe locker. If these products fail to match your need, please contact us and we would like to provide relevant information.
Product Categories : Locker