12V UPS Charger Restorer Tester All-in-One
| | |
| --- | --- |
| Payment Type: | L/C,T/T |
| Terms of Trade: | FOB |
| Min. Order: | 10 Set/Sets |
| Delivery Time: | 45 Days |

| | |
| --- | --- |
| Packaging: | Wooden case |
| Productivity: | 100 PCS/Month |
| Brand: | VOLTATECH |
| Transportation: | Ocean |
| Place of Origin: | SHENZHEN, CHINA |
| Supply Ability: | 1200 PCS/Year |
| Certificate: | CE, ROHS,ISO |
| HS Code: | 8536300000 |
| Port: | SHENZHEN |
Product Description
Lead-acid battery is the important component that restricts and affects the normal use of military facilities and weapon systems such as military vehicles, ships, radar stations and communication stations. However, the batteries may be failure and scrapped in advanced due to the irreversibility of sulphate. Therefore, our company devote ourself to research and develop a new high-tech product of UPS Battery Saver for Batter Repair named as 12V UPS Charger Restorer Tester All-in-One in our army. The capacity of the batteries can be effectively recovered, put into use again and greatly reduce the military expenditure. With the successful development and popularization of this product--Battery Saver, the effective maintenance of lead-acid batteries can not only save a lot of military expenditures on battery purchasing, but also ensure the good performance of the batteries of military motor vehicles and weapon systems and enhance the mobile combat capability and rapid reaction capability of our army, so as to provide powerful help for the equipment modernization of our army.
When the 2 electrodes of the recovery system are connected to the cathode and anode of the battery, the special pulse wave produced by the recovery system of UPS Battery Saver will act on the two electrodes of the battery continuously and change the movement state of e and H+. Therefore, the lead sulfate crystals which can not be dissociated under the normal charge electric field are continuously dissociated into Pb2+ and SO42-, that is, the PbS04 crystals are decomposed under the action of pulse wave according to the charging law and return to the solution after dissolution. After the irreversible sulfate on the electrode is completely removed, the battery plate is activated, the internal resistance is reduced, the capacity is recovered or partially recovered, and the charging efficiency is improved. Therefore, the recover process of battery capacity is an electrochemical process.
12V UPS Charger Restorer Tester All-in-One is not only the battery pulse restorer, but also is UPS Battery Smart Charger and Tester
Main FUNCTION INTRODUCTION
This 3-in-1 integrated Recovery system is composed of 3 parts and a professional standard restore process: 1) 12V UPS Battery Saver Unit(36~300Ah); 2) 12V UPS Battery Smart Charger Unit; 3) 12V UPS Battery Tester Unit.
1) UPS Battery Smart Charger
4 Pulse charge channels , each channel have three ranges :10A, 15A, 20A. Select the right charging current according to the capacity and conditions of batteries , the system have a special IC to control automatically recharging without on duty.
2) UPS Battery Saver
8 Pulse battery repair channels for different capacity of batteries: 36Ah~75Ah, 75Ah~120Ah, 100Ah~300Ah. Selecting the suitable range can be ensure better protection of battery plate in UPS battery pulse desulfator working, and extend battery life up to doubled or more.
3) UPS Battery Tester
4 discharge channels of detecting and capacity testing , with discharge current range: 0A~ 20A(Output discharge current can be adjusted continuously and input power accurately.), current precision: ±1% and voltage error: 0.05V. Choose the right ranges of discharge current in order to improve the efficiency of battery recovery and make sure the plates to be protected better
APPLICATIONS
Off-line 12V UPS Charger Restorer Tester All-in-One mainly used in:
Application to Industry Range: Sightseeing car, Golf Cart, Wind and Solar energy, UPS and Back up power system, Telecom base site battery, Tricycle, Boat, Train, State Grid and Military battery for Sudden affair, etc.

Applicable

Battery Type Range: All of Lead Acid Battery(AGM, GEL, VRLA, MF, Flooded, Dry, Traction, Deep cycle and Stationary), and widely range used in 12V (20~300Ah) cells.
TECHNICAL SPECIFICATION:
1) 12V UPS Battery Saver Unit(36~300Ah)
Synchronously Repair Battery Qty: 8 PCS Cells
Total Repair Cycletime:1~2 Days upon cell conditions
Input Voltage: AC198~240V/50~60Hz
Peak Pulse Current: 1A; 2.5A; 5A(±10%)
Peak Pulse Voltage: ≤18V
Duty Ratio Range: 5~95%(Smart)
Maxium Power: 0.72kW
2) 12V UPS Battery Smart Charger Unit
Synchronously Charge Battery Qty: 4 PCS Cells
Total Charge Cycle time: Base on cell capactiy
Input Voltage(V): AC198~240V/50~60Hz
Peak Pulse Charging Current: 5A;10A;20A(±10%)
Peak Pulse Voltage: ≤18V
Duty Ratio Range: 5~95%(Smart)
Maxium Power: 1.4kW
Nominal voltage temperature coefficient: -24mV/+1℃
Pseudo constant charge Volt: 14.1V(25℃)
Pseudo floating charge Volt: 13.5V(25℃)
3) 12V UPS Battery Tester Unit
Synchronously Test Battery Qty: 4 PCS Cells
Total Discharge Cycle time: Base on cell capactiy
Input Voltage: AC198~240V/50~60Hz
Discharge Current Range: 1~20A(Adjust precision 0.1A)
Discharge Termination Volt: 10.5V(Adjust precision 0.01V)
Deep Discharge Termination Volt: 2.0V
Maxium Power: 0.065kW
TECHNICAL FEATURES and FUNCTION: (As Below Graphic)
It can select pulse current in 3 stages for the cells with different capacities, can be used to repair 12V200Ah~300Ah lead-acid battery
It can smartly manage pulse current value, control the battery gassing and smartly adjust duty ratio, to obtain the optimal desulphation effect
It can smartly control polarization voltage and automatically enable the battery repair pulse for maintaining, without be operated by man
It has high-resistance repairing mode, which can be used to achieve best effective repairing for the battery not used for a long time
Before repairing, please charge the battery fully, check it for the need of water adding or check the positive plate for softening and falling off, etc.
We shall provide digital pulse charging equipment and intelligent discharge detection equipment, and the technical parameters shall be attached separately (if required)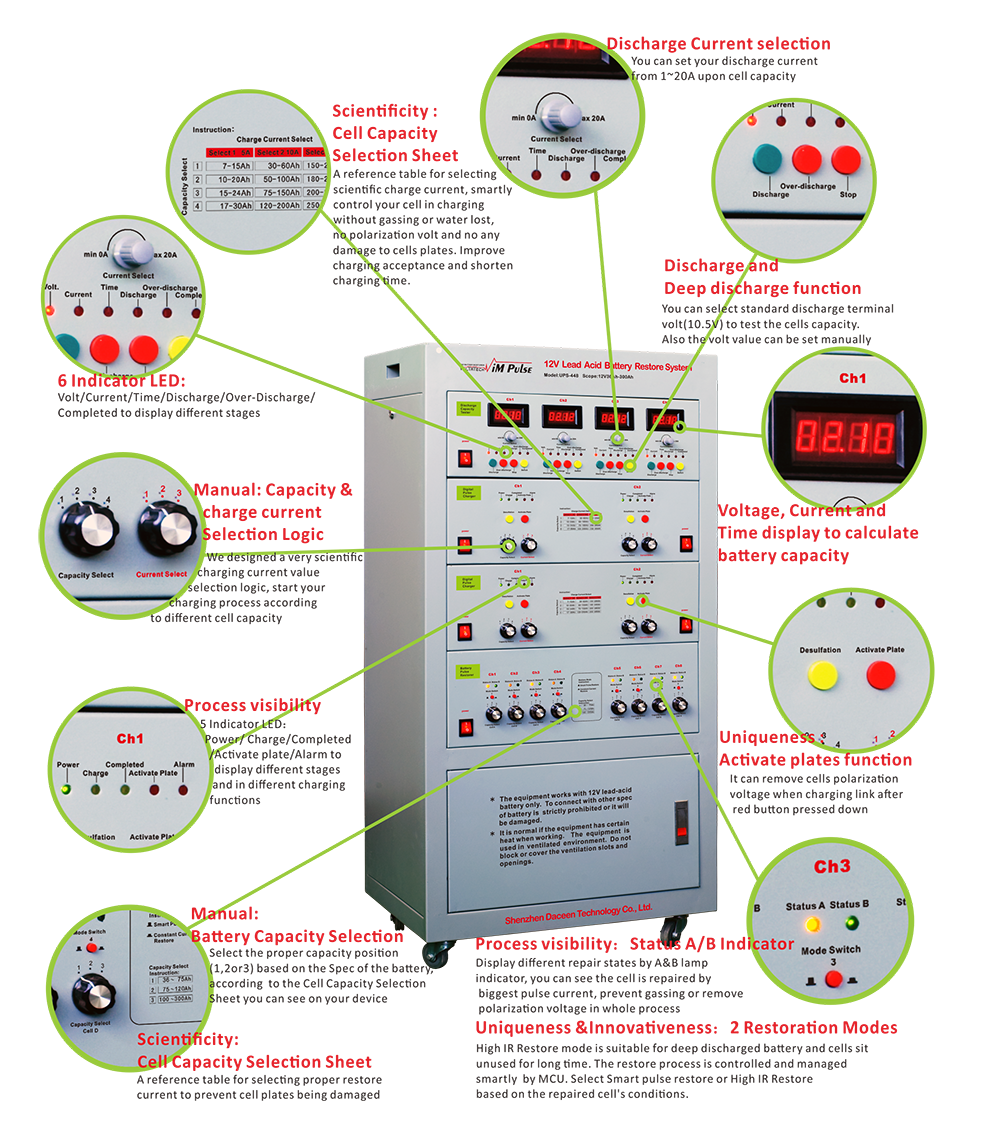 ADVANTAGES OF USING THE: 12V UPS Charger Restorer Tester 3-in-1
Our patented Composite resonant pulse technology is the best in the world, through intelligent pulse being resonant with sulfated crystals, restore battery vitality which results in increased electrolyte gravity, reduced inner resistance and increased battery capacity, and extend battery service lifespan without any damage to the battery physical structure and battery plates.
Combination of battery discharge tester and battery digital smart charger
Lowest maintenance cost and best effectiveness
Expanded lifespan of batteries
Battery Tester's analyzing and testing application
Smartly repair mode and High internal resistance repair mode for batteries with different characteristics in used
1year warranty of Battery reused after repaired completed
2 year warranty of Battery repair equipment self
Intelligent control and management by IC design and MCU
CE/RoHS/ISO9001-certified
Field application certified - by Zhejiang University and Electrochemical Research Institute-

Field application certified - by Department of Missile Engineering of PLA Ordnance Engineering College

Joint appraisal by experts group - From Professional field of Electrochemistry, Physics Power Supply, Environmental Sciences, Electronic Engineering, etc.
HOW TO USE THE: 12V UPS Charger Restorer Tester 3-in-1
There are two ways to use the battery repair system: Smart Pulse Desulfating Battery Saver and Battery Pulse Desulfator for Battery Care
Desulfated battery repair as a UPS Battery Saver: allows you to repair old and aged (3,4,5, - more years) batteries, increase the aged or scarped battery capacity to more than 80% as new and reuse it
Battery Pulse Desulfator for Battery Care: allows you to keep your new battery in optimal on average, sulphate-free condition, by means of a yearly short time maintenance as a Battery Optimizer

WHAT and HOW REPAIR A BATTERY OR BATTERY RECOVER PROCESS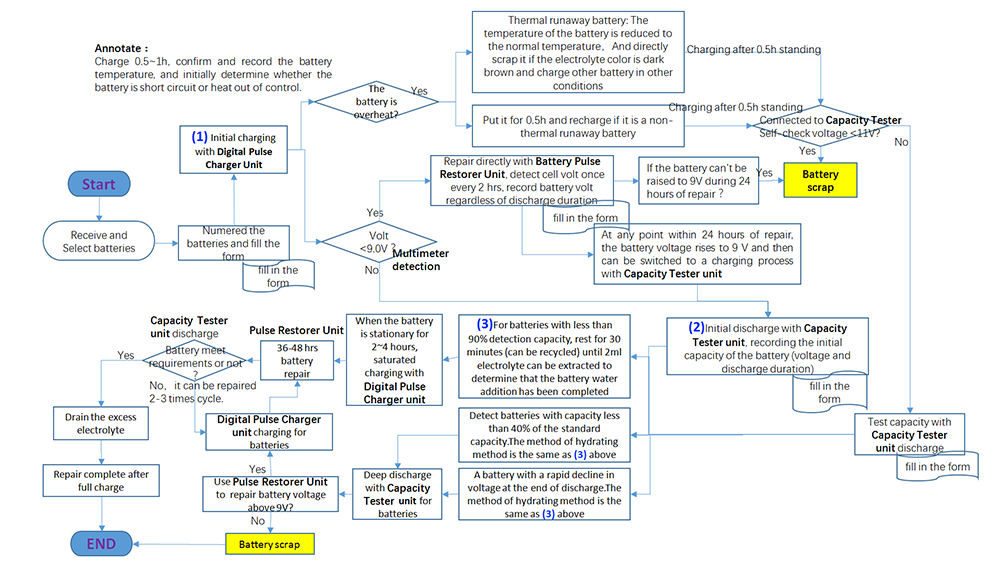 Warranty:2 Years,Detailed information you can see from Production Manuel Introductions
1) How does it work?
We have standard desulfation repair work-flow chart (English version). Our product manual has specifications to describe the operation of the equipment in detail; The battery desulfation repair process is fully automatic, only after confirming the repair mode according to the battery capacity, select the desulfation current when it is accessed to the battery, and then the device is intelligent and repair process is smart.
2) How long does it take?
Generally repair process is 24-48 hours, and new batteries maintained is about 12 hours.
3) Number of batteries repaired ?
One single repair machine: 4 pcs 12V (36-300Ah) batteries, and integrated UPS-448 is 8 pcs 12V (36-300Ah) batteries.
4) How long will it take after repair?
This is not an absolute standard. According to the user's battery application habits, the storage environment temperature and humidity of the battery, and whether there is daily maintenance, it can generally be more than 1 year.
5) How bad batteries can be repaired?
Our company's technology is aimed at the battery desulfurization technology caused by the sulfide crystallization of batteries. Physical damage such as battery bulging/deformation, corrosion, softening of positive plates and falling off of active substances can not be repaired. Our technology is the world's leading technology in the removal of sulfur, without harming the positive and negative plates of batteries. It can be repaired repeatedly without adding any chemical liquids. For Flooded batteries, deionized distilled water is added only according to the specific gravity of electrolyte (according to the specific gravity standard of electrolyte). The technology level of desulfurization can achieve the following most serious cases of sulfation:
First, a new battery, which has not been used for a long time, has been stored in warehouse or on shelf for more than 2 years. The voltage is close to 0 volt which can not be charged or discharged. We can recover it as the new battery (no company in the world can do it, only our technology can achieve it).
Secondly, for UPS backup batteries, almost more than 90% of the capacity reduction is caused by battery sulfation. These batteries sulfation can be removed by our repair equipment, and its capacity recovered to more than 80% or even more than 90% as new battery capacity.
Thirdly, for new lead-acid batteries, if they are maintained regularly 1-2 times a year once put into used, the lifespan of the batteries can be close to its design life. That is to say, the life of the batteries can be prolonged by 1-3 times after applied our technology.
Shenzhen Daceen Technology Co., Ltd.
Founded in 1998 on the initial name of VDO. Decades of technical research in smart pulse battery repair equipment, Our team patented a smart pulse desulphation technology that I believe revolutionized battery repair and maintenance methods. As you will read, the application of this technology is kind of just as [doctors treat patients in hospital" to keep it healthy again or recover it as new battery for a longer time. Therefore, we worked on industry wide validation that was approved by experts from various fields more than 20 years, and cooperated with the Chinese military from DEC. 1999.
Our products is the world leader in battery smart desulfation and maintenance solutions of any 2V/6V/8V/12V cell or 36V/48V/60V/72V battery bank including Flooded, AGM, VRLA and GEL cell, even it is Lead carbon battery.
We are involved in researching, developing and manufacturing the most reliable and effective products as a lead acid battery recovery expert in the industry. Widely used in various fields such as military, telecom base site, IDC, UPS stationary power, battery manufacturer, railway, solar & wind energy, security, sightseeing car, family car, truck, motorcycle, golf cart, forklift, electric vehicle, etc.
Daceen is a famous brand in China, we're confident to help corporations and consumers all over the world recycling & cost-down of batteries. VoltaTech will be the most well-known overseas brand.
Our Mission: To be the leader of professional battery repair and management solutions in the word. Produce the smartest pulse recovery system to make a batter tomorrow. And adhere to the core values:"Save energy Benefit our country and people", to build a domestic and international well-known brand of VOLTATECH.
We always believe that "Life Long We Do, Healthy We Trust".

Company Name: Shenzhen Daceen Technology Co., Ltd.
Representative: CHEN MING
Product/Service: Battery Protector and Battery Saver , Battery Smart Charging Repair Device , Off line Battery Repair System , Battery Monitor and GPS Module , Battery Equalizer and Optimizer , Battery Smart Pulse Charger
Capital (Million US $): 20 Million RMB
Year Established: 1998
Total Annual Sales Volume (Million US $): US$5 Million - US$10 Million
Export Percentage: 71% - 80%
Total Annual Purchase Volume (Million US $): US$1 Million - US$2.5 Million
No. of Production Lines: 4
No. of R&D Staff: 5 -10 People
No. of QC Staff: 5 -10 People
OEM Services Provided: yes
Factory Size (Sq.meters): 1,000-3,000 square meters
Factory Location: 2 Floor, A4 Bldg, the Silicon Valley Power Intelligent Terminal Industrial Park,Guanlan, Longhua, Shenzhen., China.
Contact Person: Mr. Boris Chen
Tel: +86-0755-21002581